Animal cruelty bill wins parliamentary approval but no kudos from animal lovers
April 9, 2008 Joan Bryden, The Canadian Press
OTTAWA - Parliamentarians won few kudos from animal lovers Wednesday after approving the first significant changes to Canada's animal cruelty laws in more than a century.
A private member's bill, introduced by Liberal Senator John Bryden, was approved by the House of Commons by a vote of 189-71, with the support of most Conservative, Bloc Quebecois and many Liberal MPs. The bill, which stiffens penalties for animal abuse, has already been approved by the Senate and, thus, needs only royal assent to become law.
Major animal welfare groups, including the Canadian Federation of Humane Societies, oppose the bill, which they argue is simply a weak update of a bad law. They contend it's pointless to stiffen fines and jail terms without simultaneously closing loopholes that allow most animal abusers to escape conviction. They support a competing private member's bill, introduced by Liberal MP Mark Holland. It is virtually identical to Bill C-50, legislation which was twice passed by the Commons but blocked by the Liberal-dominated Senate.
Holland's bill would move animal cruelty provisions out of the property crimes section of the Criminal Code and extend protection to strays and wildlife, not just domestic animals. It would increase penalties generally and include additional penalties for wounding or killing police dogs and horses. Holland called Bryden's bill "a placebo" and said its passage is "a blow, it is a setback."
Under Bryden's bill, the maximum penalty for animal cruelty will increase to five years imprisonment and/or a $10,000 fine. The current maximum is six months imprisonment and/or a $2,000 fine. Bryden readily acknowledges his bill is not as ambitious as Holland's. But, given that seven attempts to modernize animal cruelty laws have failed in the past 10 years, he argues that it's better to proceed with the one thing everyone can agree with - stiffer penalties - than continue to do nothing.
Past attempts at more drastic reform have failed after farmers, aboriginals, hunters, anglers and researchers objected that all sorts of traditional practices could be rendered illegal, from branding and castrating livestock to boiling lobster for dinner. Bryden argues there's no reason why Parliament can't also eventually pass Holland's bill, debate on which is not expected to start until the fall. In the meantime, he says he hopes the stiffer penalties in his bill will act as a deterrent.
But Holland and animal rights advocates fear senators, who've shown little inclination in the past to crack down on animal cruelty, will use passage of Bryden's bill as an excuse to do nothing more. "My real fear with this bill is that it's going to be used as a weapon for senators to throw up their hands and say 'Oh, we already dealt with this,' so that they could continue to vote down legislation that came from the House," he said. "We can't let them get away with that."
April 10, 2008
Partial e-mail received from Jack Layton, Leader of Canada's NDP
I am contacting you further to your earlier email urging opposition to Bill S-203, An Act to amend the Criminal Code (cruelty to animals). Regrettably, Bill S-203 passed with a large majority--made possible with
the combined votes of Conservative, Liberal, and Bloc MPs.

NDP MPs voted against this legislation and share the deep disappointment of all who fought hard against S-203. The Canadian Federation of Humane Societies (CFHS), International Fund for Animal Welfare (IFAW) and World Society for the Protection of Animals (WSPA) are encouraging the fight to continue. Their joint website encourages individuals to hold your MP Accountable! You can take action by letting those who supported S-203 know of your dissatisfaction with their vote.
Canada has worst cruelty laws of 14-nation survey
September 18, 2008 Campbell River Mirror
With the upcoming federal election, I was going to write about poverty in Canada and about where each party stood in addressing this issue. Then, a little innocent puppy was viciously shot on Quadra Island, and I was driven to write about the poverty of our souls in this country.
I have always been a great fan of Gandhi. Gandhi was a great soul, a practitioner of non-violence and truth and advocated that others do the same. He said the greatness of a nation, and its moral progress, can be measured by the way its animals are treated. There is just cause to conclude that our elected officials in Ottawa have lost their way on that moral compass and don't measure up at all.
A recent report by the International Fund for Animal Welfare (IFAW) shows Canada has the worst animal cruelty laws among 14 countries surveyed, including the Ukraine and the Philippines. The law is 115 years old, is hopelessly outdated, and treats animals as property, like a car or your lawn furniture. So when you hurt or kill an animal, it is considered a property offense or vandalism. Tell that to the little kid on Quadra who vomited in horror at the sight of his puppy dying.
Crimes against police service animals are crimes against 'property'. To kill or injure a police service animal is a summary conviction punishable only by a fine. The same is said for all animals in Canada unless they are strays or orphaned. Under current law in Canada less than 1/4 of one per cent of people charged with animal abuse are actually punished.
Research has shown that in situations where animals are being abused or neglected, abuse is often happening to children and adults. Maybe this was enough to convince our leaders to tackle this issue head on.
On April 9 of this year, the government finally decided to do something about this situation and passed Bill S-213, despite the fact that not one single animal protection agency, veterinary association or grassroots humane society in Canada supported it. Over one hundred and thirty thousand Canadians signed a petition against this law.
MPs had to have been pretty clear on where Canadians stood on this issue. Since we are going to the polls again soon, those who disapprove of cruelty to animals may be interested in discovering how their MPs voted in April.
This bill maintained the same wording as the law from 1892 and continued to allow training for dog fights, continued to allow animal cruelty to be a property offense, and continued to make it difficult to prosecute cases of neglect or cruelty. All it did was increase penalties for the .04 per cent who are convicted from a maximum of six months to five years in prison and increasing the potential fine from two thousand to ten thousand dollars. In addition, the courts could order the convict to pay for the cost associated with the animal's loss or injury. All but a few Liberals, all of the Conservatives and the Bloc supported Bill S-203 while the only party opposing it was the NDP.
Under current legislation, crimes of neglect are extremely difficult to punish appropriately. The wording of the current neglect offence uses the term "willful neglect," which requires proof of a person's intent. The requirement to prove that a person intended to neglect his or her animals or intend to harm them makes it extremely difficult to successfully prosecute. The current legislation does not address brutally or viciously killing an animal as a form of violence.
On June 4, NDP Member of Parliament Penny Priddy tabled Bill C-558, a private member's bill to amend the animal cruelty section of the Criminal Code. Bill C-373 moves these laws out of the property chapter of the Criminal Code, reflecting the contemporary view of animals as sentient beings, rather than possessions.
This bill received First Reading on June 4th and is due for second reading in the Fall. We need to stay on top of it and hold our elected officials accountable. It outlaws killing an animal brutally or viciously, whether or not the animal dies immediately.
It recognizes the worth of our animal friends and that they are living beings who suffer, who feel pain and fear, who protect humans, who serve society, who offer unconditional love and companionship, who often save human lives, and who sometimes naively follow bad men down the road just to say hello.
February 20, 2009
For Immediate Release: Office of Mark Holland, M.P.
MP HOLLAND TO CONSERVATIVE MINISTER: LET'S WORK TOGETHER ON REFORMING ANIMAL CRUELTY LAWS
OTTAWA – Liberal MP Mark Holland welcomes Conservative MP Keith Ashfield, a minister in the Harper cabinet, to join him in moving forward effective animal cruelty legislation in Parliament.
"I applaud Minister Ashfield's recent public statement in support of modernizing Canada's archaic animal cruelty laws," said Holland. "I invite him to meet with me to discuss my current bill C-229 on this issue and how we can promote a bipartisan solution to getting needed reforms through."
Holland is referring to Ashfield's comments which were in reaction to the recent high-profile case of a New Brunswick man who justified killing five small dogs in his care because they were his property. The case re-ignited debate on reforming the part of the Criminal Code dealing with animal cruelty – including taking it out of the property crimes section – to close loopholes that allow known perpetrators of blatant and horrific abuse walk away from their crimes.
In the previous Parliament, Holland invited Prime Minister Stephen Harper's Conservative government to take his private member's bill – then numbered C-373 – word for word and expedite it through all legislative stages. The government failed to respond, and instead ensured passage of Senator John Bryden's "placebo" bill S-203 on animal cruelty – a bill widely criticized by Holland and respected animal welfare groups for increasing penalties without addressing conviction rates.
"The case in New Brunswick is a perfect example of why Bryden's bill missed the mark," declared Holland. "Stiffer sentences are useless if we can't convict abusers under our laws." "Minister Ashfield's comments represent a breakthrough – and I hope that after ten years and 4 parliaments Canadians finally will see the passage of effective animal cruelty laws."
May 2, 2009
Ashfield's commitment to animal rights questioned by Ontario MP

The Daily Gleaner (New Brunswick)
An Ontario Liberal MP claims the Prime Minister's Office has told Fredericton MP Keith Ashfield to back down on the animal cruelty issue. Ajax-Pickering MP Mark Holland said he has been trying to set up a meeting with Ashfield for weeks to discuss the matter, but his requests have gone unanswered.
Holland, the author of a private member's bill that would remove animal cruelty provisions out of the property crimes section of the Criminal Code, wants to talk to Ashfield about how cruelty laws can be changed. "It says to me that he has received direction from the Prime Minister's Office; he has received his marching orders to back down," Holland said.
Ashfield, the minister of state for the Atlantic Canada Opportunities Agency, couldn't be reached this week for comment.
In February, Ashfield said he was committed to seeing Canada's animal cruelty laws modernized. He also said he intended to meet with Holland to discuss his private member's bill, which has yet to make the floor of the House of Commons. "I think the whip has been cracked and, as a lot of them are on that side of the fence, (they) are pretty afraid of the prime minister," Holland said. A lack of progress in making changes to animal cruelty laws translates into bad news for animals, he said.
"I don't think this is an issue we should be playing politics with. I don't think anybody needs to snap a whip. I think, at the end of day, this should be a motherhood and apple pie issue. Animals are being tortured and our laws are tame, and right now we are behind countries like the Philippines," Holland said.
He said he would like to get the Conservative government to put forward its own bill based on his private member's bill, since government initiatives in such areas generally advance more quickly.
The call for further changes to the law has been a hot issue since an elderly Minto man was acquitted earlier this year of killing five small dogs, even though he admitted to hitting them on the head with a hammer. The action was taken so SPCA officials wouldn't remove them from his home.
Animals in Canada are considered the property of the owner and that person may dispose of them accordingly, providing it doesn't cause unnecessary pain, suffering or injury.
Gwen Young of Oromocto is the founder of the BARK campaign, an organization created to put pressure on politicians to modernize the animal cruelty law. She said her group has stopped pressuring provincial officials and has taken its case to federal Justice Minister Rob Nicholson. "The only thing that's going to get us to stop and ease up a little bit is change," Young said. "It will be a big issue come the next election, trust me."
In email correspondence with the group last month, Nicholson reiterated the government's commitment to Bill S-203, passed in Parliament last year.
"The bill raised maximum penalties for the more serious existing offences of animal cruelty to five years in prison from six months, and granted judges the discretion to order, as part of a sentence, that a convicted offender be prohibited from owning or residing with an animal for any length of time considered appropriate, up from the previous maximum of two years," the minister wrote.
The bill, however, has been criticized by animal welfare groups for increasing penalties without addressing conviction rates.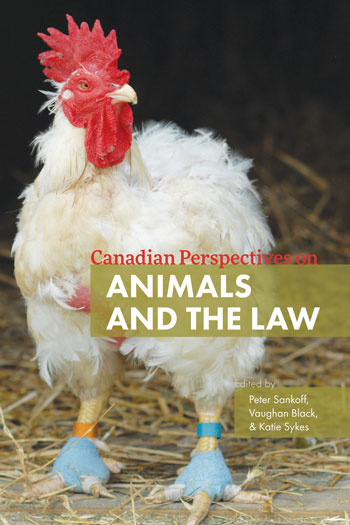 Note: Many Canadians have asked how they can help to pass effective animal cruelty legislation. There are a number of things you can do, but the most helpful is to write to your Member of Parliament, Senators, and Justice Minister Rob Nicholson. We would like MPs and Senators to do the following:
- Indicate that they wish to join an all-party team of MPs and Senators in support of the general principles of C-229.
- Urge the government to introduce a government bill based on C-229.
October 16, 2013 Update to the Animal Cruelty Bill, C-232
February 25, 2018 Our animal cruelty laws need to catch up in 2018
Comment: It is well-documented by researchers and non-researchers alike that animals are sentient creatures. Most of us knew this as children. It is inexcusable that Canada's legislators have been delinquent in removing them from the property status under law. Our politicians have an ethical and moral duty to listen to its citizens and to act.
The day may come, when the rest of animal creation may acquire those rights which never could have been withholden from them but by the hand of human tyranny. Jeremy Bentham, The Principles of Morals and Legislation
May 9, 2014 Alberta MLA blasts government for killing animal-protection bill
Comment: Playing politics again and pushing animal protection to the back burner. Politics is the art of postponing decisions, hoping the issue will go away or it is no longer relevant. If government doesn't respond, as history has proven time and time again, citizens will mobilize, rise up and become a stronger force. You cannot keep a movement down or stall forever. We aim to liberate the oppressed.
January 29, 2015 Dog walker's jail sentence shows courts getting tougher on animal cruelty
February 6, 2016 DNA order in Ontario animal abuse case sparks privacy debate
Comment: The ruling by Judge Michele Rawlins is totally justified. This is a violent, repeat offender. We need to protect the vulnerable in our society. Various media have reported that he has " a long record that includes convictions for robberies and domestic assault. He was paroled in 2009 after being convicted in 2005 of two counts of assault with a weapon. He breached his parole in 2010 and was jailed again. He's been free since 2011."
Related news: Free pet rabbits offered on Craigslist; cracking down on breeder ads online; Kijiji's position, free pets often end up in wrong hands, CHS seizes dead animals
---
N.W.T. to look at increasing fines for negligent dog owners
January 12, 2009 CBC News
Recent allegations of neglect against dog owners in the Northwest Territories have prompted the government to look at making fines tougher under existing dog legislation.
The N.W.T. does not have any territorial laws that specifically protect animals from negligence. The only legislation that addresses the treatment of dogs is the Dog Act, which was enacted in 1988 but is rooted in legislation from the 1950s. The act currently carries a $25 fine for not feeding a dog.
"It may reflect the sense that at the time people weren't likely to neglect their dogs, because people used their dogs as working animals," said Sheila Bassi-Kellett, the N.W.T.'s assistant deputy minister of municipal and community affairs. "And if you neglected your dog, you didn't have a dog team to transport you places. "I mean, it may have been based on something like that. But who knows? It's old legislation."
Bassi-Kellett said federal legislation that addresses animal cruelty does not help much, either. "[Under] the Criminal Code right now, there has to be an actual intent to do harm, and so that's pretty deliberate as opposed to someone who is just negligent," she said. "I think that there is a difference."
Neglecting dogs became an issue in Tuktoyaktuk, N.W.T., when the local dog catcher discovered three sled dogs dead and frozen to the ground in the yard of resident Randall Pokiak. Another three dogs were found to be skinny and very weak. Tuktoyaktuk RCMP decided not to lay charges against Pokiak. Pokiak's brother, local outfitter James Pokiak, told CBC News that he believes the dogs were sick, not neglected.
But James Pokiak said people — including some in his community — do neglect their animals, and they're the ones police and bylaw officers should be going after. "There was some bunch of dogs tied up over at the fisheries camp by Liverpool Bay and left there to die," he said. "Another time prior to that, a person here within the community who had a bunch of dogs … basically those dogs themselves starved, and nothing was done about that issue."
Bassi-Kellett said the government may also have to consider following the Yukon's lead and introducing its own animal protection act.
Update: February, 2009 Work is underway to amend the Dog Act, but MLA Bob Bromley said what is needed is an animal rights act. He wants legislation that applies to both pets and working animals, such as sled dogs. Bromley is also calling for harsher penalties, such as preventing repeat offenders from owning animals in the future. (We agree) Mar 7/11 Dog Act is revamped.