Major Campaign Aims To Protect B.C.'s Endangered Species; Groups take A Poke At Province's Identity
Groups say BC is the "last place on earth" without endangered species legislation
October 29, 2008, Vancouver – Four of British Columbia's leading environmental groups launched a major campaign today calling for provincial endangered species legislation, and taking a poke at the province's brand as the "best place on earth," unveiling a re-worked version of the government's official logo, featuring unhappy endangered species.

Endorsed by a growing list of prominent Canadians including rocker Sam Roberts, and guest speakers, Whistler Mayor, Ken Melamed and Kai Chan, Canada Research Chair in Biodiversity and Ecosystem Services at UBC, the campaign seeks to reconcile BC's identity as the "best place on earth" with its true identity as one of the last places on earth without an endangered species law.

"A voluntary approach to species protection is simply not working: BC needs an endangered species law," said Ken Melamed, Mayor of Whistler. "As the Mayor of a community that will be in the international spotlight in 2010, I want to be able to tell the world that our province is leading the world on this important file. We need the same leadership on endangered species that the government has shown in its efforts to tackle climate change."
The Union of BC Municipalities at its recent convention passed a resolution calling on the provincial government to enact stand-alone endangered species legislation.
"More than four dozen species have disappeared from our province, and the casualty list is growing in length and urgency," said Dr. Faisal Moola, Director of Science for the David Suzuki Foundation. "With more biodiversity than any other province, BC is an ark for wildlife, but until we have regulation in the form an endangered species law, that ark is sinking fast."

To help make their case, the groups have released a report and launched a website titled, "The Last Place on Earth" (http://www.lastplaceonearth.ca) detailing BC's loss of biodiversity and making concrete recommendations for the development of endangered species legislation.
"For years scientists and conservation groups have been ringing alarm bells about the worsening biodiversity crisis in BC," said Candace Batycki, Director of Forest Programs for ForestEthics. "Our polling and focus groups have repeatedly shown that British Columbians are not only passionate about this issue but that they are shocked and embarrassed when they find out that BC doesn't have an endangered species law."

"We have seen what is happening to our killer whales due to lack of action," said Gwen Barlee of the Wilderness Committee. "We have over 1600 species at risk in BC, and if we want to have grizzly bears and badgers in our future BC needs to step up to the plate and introduce an endangered species law – a law that is science based and that will actually protect habitat and recover species."

"Compared with every other industrialized nation and region in the world, BC sticks out like a sore thumb for not having an endangered species law," said Sean Nixon, a staff lawyer with Ecojustice. "We have the richest biodiversity in Canada, and no law to protect it."

British Columbia has the richest biodiversity of any Canadian province. It is home to 76 percent of Canada's bird species, 70 percent of its freshwater species and thousands of other animals and plants. Well over 3,600 species call BC home, and many of these, such as the mountain goat and mountain caribou, live mostly – or only – in the province. Unfortunately, BC's biological wealth is under severe stress. A recent analysis found that 1,640 species, ranging from phantom orchids to Vancouver Island marmots – 43 percent – are currently at risk. www.lastplaceonearth.ca
For more information, please contact:
Candace Batycki, Director of Forest Programs, ForestEthics, 604-219-7457 (cell)

Dr. Faisal Moola, Director of Science, David Suzuki Foundation, 604-512-5788 (cell)

Gwen Barlee, Policy Director, Western Canada Wilderness Committee, 604-202-0322 (cell) or 604-683-8220 (work)

Sean Nixon, Staff Lawyer, Ecojustice, 604-685-5618
There oughta be a law!
October 2008 http://www.protectbiodiversity.ca/action/
Tell British Columbia Premier Gordon Campbell to pass a species and ecosystems protection law for over 1600 species at risk in the "best place on earth.
Help us show the BC government that in this day and age driving species to extinction is unacceptable. Send your message to BC Premier Gordon Campbell (copied to Environment Minister Barry Penner, and Agriculture & Lands Minister Stan Hagen). Thanks for helping BC's species!
May 4, 2009 The Sierra Club BC, Wildsight, and Dogwood Initiative support the campaign, and over 5,500 signatures have been collected to date. Alberta and BC are the only Canadian provinces without endangered species legislation to protect species at risk, such as grizzly bears, Great Blue Herons, and rare desert plants.
March 2011 BC has yet to enact Species at Risk legislation. 2021 Still no endangered species legislation. An outrage!
---
Endangered species to get daily web spot in 2010
Reuters December 31, 2009
Polar bears are among the animal species threatened by the impact of global warming as Arctic ice continues its rapid retreat.
GENEVA - Endangered species from polar bears to giant salamanders, great white sharks to beluga whales and Namibian quiver trees to Cuban crocodiles will have their day on the Internet throughout 2010.
The International Union for Conservation of Nature (IUCN) said on Thursday it would issue throughout the coming year an extensive daily portrait of each of the 365 animals, birds and plants most under threat of disappearance.
"It is time for governments to get serious about saving species and making sure it is high on their agenda for next year, as we're really running out of time," said Jane Smart, a biodiversity expert at the Swiss-based IUCN. "The scientific evidence of a serious extinction crisis is mounting," Smart said. A third of the some 1.8 million identified species were under growing threat. Experts believe there could be as many as 6 to 12 million more species as yet unknown to science.
From Jan. 1 2010, declared the U.N. Year of Biodiversity, IUCN will draw on latest research for its annual Red List of endangered wildlife to portray in detail the possibly doomed species of the day.
The material will be posted on the IUCN website (www.iucn.org). "We will start with some better known species before moving to cover plants, fungi, invertebrates, and more, including less charismatic ones," the inter-governmental body said. The polar bear, whose fate as the arctic ice-shelf melts has been widely recognised, will have star billing on Jan. 1.
Before December's U.N. Climate Change Conference in Copenhagen, IUCN said inaction would put the future of some of the world's best-known creatures at risk. These also included the emperor penguin, the arctic fox, clownfish which were popularised by the hit film "Finding Nemo," Australia's koala bear and almost every species of salmon, both marine and freshwater.
---
News About CITES 2010
October 27, 2009 - HSI
The fate of many of the world's threatened species, including elephants, tigers, sharks and tree frogs, hinges on decisions that will be made at an international meeting on wildlife trade in March 2010.
Millions of wild plants and animals are traded internationally each year. This multi-billion dollar trade is too often illegal, unsustainable, and inhumane. The Convention on International Trade in Endangered Species of Wild Fauna and Flora (CITES), with 175 member countries (or "Parties"), attempts to regulate the international trade of many species.
CITES CoP15
The 15th meeting of the Conference of the Parties (CoP15) will be held on March 13-25, 2010 in Doha, Qatar. Delegates from the member countries will consider more than 40 proposals to increase or decrease protection for wild animals and plants, along with important procedural issues.
The purpose of CITES is to protect species from overexploitation from international trade. The level of protection is determined by which of three Appendices species are listed on. An Appendix I listing means that Parties agree to ban international commercial trade in the species and its parts and products; an Appendix II listing means that Parties agree to regulate trade to prevent overexploitation; and an Appendix III listing means that Parties record and report trade levels.
Species Proposal Highlights
Polar bears: The U.S. has proposed to upgrade the polar bear from CITES Appendix II to Appendix I. In addition to the threat of global warming, which is destroying their habitat and making it harder for them to find food, hundreds of polar bears are killed each year for the international commercial trade in their parts to make products such as polar bear skin rugs. Moving them to Appendix I will improve protection for them. View our two print ads ( 1, 2 ) [PDF] asking European leaders to support the U.S. proposal.
Elephants: African elephants, who are killed for trade in their ivory tusks, have been the center of heated debate at CITES since the 1970s. On one side of the debate are countries in southern Africa, where most African elephants live, whose governments want to trade in ivory. On the other side are countries in eastern, central and western Africa, which have smaller elephant populations and which are losing their elephant populations to poaching and illegal ivory trade. At the last CITES meeting in 2007, African countries agreed to a compromise: Four southern African countries were allowed to sell their government-owned ivory stockpiles to Japan and China, agreeing in exchange not to ask for further permission to sell ivory for nine years. Unfortunately, this compromise did not apply to all African countries and now Tanzania and Zambia are proposing to transfer their elephant populations from CITES Appendix I to Appendix II and asking to be permitted to sell their stockpiled ivory. Meanwhile, a group of six African countries—Ghana, Kenya, Liberia, Mali, Sierra Leone and the Republic of Congo—have proposed a new deal: no ivory trade proposals for 20 years from any African country. HSI believes that the only way to stop elephant poaching is to ban trade in ivory.
Sharks: Proposals to establish CITES protection for eight species of sharks—more than have ever been considered before—are on the table for CITES CoP15. The European Union and Palau have proposed adding porbeagle and spiny dogfish sharks to CITES Appendix II; proposals for these species came close to being adopted at the last CITES CoP. The U.S. and Palau have proposed adding oceanic whitetip, three types of hammerhead, dusky and sandbar sharks to Appendix II. Sharks of these species are victims of shark finning, a cruel and wasteful practice to supply fins for shark fin soup. Listing them on a CITES Appendix will help shield them from overfishing.
Tree frogs: Guatemala, Honduras and Mexico have proposed adding a genus of Central American tree frogs to CITES Appendix II. These are the cute little green frogs with the red eyes that are often seen in travel brochures. Their good looks are their downfall, as they are also frequently caught for the international pet trade, resulting all too often in their untimely and inhumane death.
Bluefin tuna: Monaco has proposed listing this species of tuna on CITES Appendix I, as populations are being rapidly depleted to satisfy the demand for this favorite of sushi consumers. Efforts to manage stocks regionally have failed repeatedly, leaving these fish in dire straits. CITES protection could be the species' best and last chance for survival.
Guatemalan spinytail iguana: Guatemala proposed adding this reptile to CITES Appendix II to regulate its export for the international pet trade. These animals are also commonly hunted locally for food.
Red and pink corals: The U.S. is making another attempt at listing corals on CITES Appendix II in order to regulate the international trade in these animals for use in jewelry. This time, the European Union is co-sponsoring the proposal, which greatly increases its chance for success.
Tigers: The European Union is proposing to increase protection for tigers. With fewer than 4,000 tigers left, these critically endangered animals, who are already listed on CITES Appendix I, need all the help they can get. The main threats to the survival of tigers include poaching and illegal trade in tiger parts and products for use in traditional Asian medicine. The European Union proposal will put pressure on countries to stop "farming" tigers and step up enforcement of laws.
Bobcats: For the fourth time, the U.S. has submitted a proposal to eliminate CITES protection for bobcats, who are caught in painful leghold traps for international trade in their fur. Bobcats, although not threatened with extinction, are the most highly traded cat species and their fur looks identical to that of an endangered European lynx species. Besides welfare concerns over the inhumane use of leghold traps, international trade in bobcat fur needs to be regulated under CITES to ensure that fur of the endangered European lynx species does not enter trade through confusion or deception.
Between now and March, it is crucial that people contact their government to express concern for these species and to urge votes in favor of maintaining or increasing their protection. The European Union, for example, takes a common position on each of the proposals and votes as a block. If they cannot agree, all 27 countries may abstain. Every other country has a single vote, though sometimes regions such as Latin America will decide to vote together. Proposals to add or delete a species from a CITES Appendix require a three-quarters majority vote in order to be adopted. The adoption of a CITES proposal to increase or decrease protection can affect millions of individual animals. What is decided in 2010 will remain in place at least until the next meeting, likely in 2013.
December 10, 2014 Canada Hasn't Blocked Global Trade In 76 Endangered Species: Docs
---
Polar bear ban defeated at UN conservation meeting
17 March 2010
DOHA, Qatar (AP) — A U.S.-backed proposal to ban the international trade of polar bear skins, teeth and claws was defeated Thursday at a U.N. wildlife meeting over concerns it would hurt indigenous economies and arguments the practice didn't pose a significant threat to the animals.
The Americans argued at the 175-nation Convention on International Trade in Endangered Species, or CITES, that the sale of polar bears skins is compounding the loss of the animals' sea ice habitat due to climate change. There are projections that the bear's numbers, which are estimated at 20,000 to 25,000, could decline by two-thirds due by 2050 due to habitat loss in the Arctic.
"We're disappointed," said Jane Lyder, the Department of Interior's deputy assistant secretary for fish and wildlife and parks. "But we understand that CITES is still trying to understand how to incorporate climate change into its decision making."
Canada, along with Norway and Greenland, led the opposition to the U.S. proposal. They said the threat from trade was minimal and the hunting done by Aboriginal communities was critical to their economies. Only 2 percent of Canadian polar bears are internationally traded and the country strictly manages the commerce, Canada said. "There is no doubt that action must continue to ensure the conservation of polar bears. Canada's goal is long term survival of polar bears," Canadian representative Basile Van Havre said. "But Canada does not think the proposal is supported by facts."
Frank Pokiak, an indigenous leader from Canada, said communities in the Arctic have hunted bears for generations, mostly for meat for food and pelts for clothing and shelter. He said they hunt them in a sustainable way and would continue doing so with or without an international ban. "We have always cared for land and the wildlife because we have a lot to lose," Pokiak told delegates. "If it wasn't for polar bears and other wildlife that we harvest, we wouldn't exist today."
The big white bear, the world's largest land meat-eater, "nanuq" to the Inuit, may be uniquely susceptible to climate change as rising temperatures fast shrink its habitat, the Arctic sea ice.
Many bears spend their whole lives on the ice, mating, giving birth and hunting for their main prey, the ringed seal. But Arctic summers may be almost free of sea ice within 30 years, the U.S. National Oceanic and Atmospheric Administration predicted last April.
Data available on polar bear trade shows that since the early 1990s the market for polar bear carcasses and parts has increased. From 1992 to 2006, approximately 31,294 live polar bears, carcasses or parts were exported to 73 different countries, according to data collected by the Convention on International Trade in Endangered Species. Skins are the most popular export item, and Canada is the largest commercial exporter.
In May 2008, the U.S. classified the polar bear as a threatened species, the first with its survival at risk due to global warming. The determination made all but subsistence hunting illegal. Conservationists criticized the vote rejecting a broader, international ban, accusing countries of ignoring the plight of a bear that for many has become the poster child for global warming.
"CITES parties have turned their backs on this iconic species," said the International Fund for Animal Welfare's Jeff Flocken, whose group is part of a polar bear coalition which several environmental groups. "Polar bears clearly meet the criteria for an uplisting to Appendix I," he said, referring to the designation that was proposed by the United States. "Yet parties are using the fact that climate change poses to the greater long-term threat to the species as an excuse to do nothing about immediate threats hastening their decline."
Andrew Wetzler, director of NRDC's Wildlife Conservation Project, called the vote "a setback" in what otherwise has been a successful effort to protect the bear. "It keeps some the most important populations of polar bears squarely in the crosshairs," he said. "We will continue work to find a new way to protect polar bears from this unsustainable hunt."
UN rejects export ban on Atlantic bluefin tuna
18 March 2010 AP
DOHA, Qatar — A proposal to ban the export of Atlantic bluefin tuna prized in sushi has been rejected by a U.N. wildlife meeting. Thursday's decision occurred after Japan, Canada and scores of poor nations opposed the measure on the grounds that it would devastate fishing economies.
Monaco introduced the proposal at the 175-nation Convention on International Trade in Endangered Species, or CITES. It argued that extreme measures are necessary because the stocks have fallen by 75 percent and current managing agencies have done nothing to rebuild the stocks.
Only the United States, Norway and Kenya supported the proposal outright. The European Union asked that implementation be delayed until May 2011 to give authorities to respond to concerns about overfishing.
Comment: Despite urging from many concerned citizens and activists, it's appalling that once again all other species receive no protection from human interests. How sad it is that we are so selfish and uncaring as to destroy the lives and habitat of those with no voice. In the end, nature will reclaim herself, but in the meantime all others suffer and die because we are such tyrants.
---
Dwindling food for thought
As nations around the world continue to destroy entire species, woe betide the animals that become a delicacy
March 28, 2010 Eric Margolis,Toronto Sun QMI Agency
Fish don't vote. Neither do tigers, polar bears, sharks, elephants or any other endangered animals whose plight was addressed at the UN meeting on endangered species in Doha. Because wildlife has no political clout, nations around the world continue to destroy entire species until none are left. So much for enlightened humanity at work in the 21st century.
An admirable effort by the United States to protect the gravely overfished Pacific bluefin tuna, the supreme sushi or sashimi delicacy, was voted down by the conferees after intense lobbying from Japan.
Another laudable effort by the United States to protect polar bears by banning their hunting was also defeated —thanks in good part to Canada and Greenland. The U.S. warns that melting sea ice caused by global warming threatens the already endangered bears.
Canadians like to think of themselves as a humane, enlightened nation and good global citizens. But abroad, Canada is increasingly viewed as a backwards, brutish country because of its stalwart defence of slaughtering baby seals, trapping fur animals, encouraging the hunting of black and grizzly bears, and now blocking a ban on hunting polar bears.
Canadian conservatives share the bizarre notion with their Republican soulmates that massacring helpless, defenceless animals with high-powered weapons is somehow manly and patriotic. It's not. It's cowardly, uncivilized and shameful in our day and age. Trophy hunting and killing bears for body parts for bogus Chinese remedies should be banned. *******
Most nations abuse animals, but China, which I enormously admire in other ways, unfortunately remains a major malefactor. Last week came reports that 11 rare Siberian tigers had starved to death in a commercial Chinese zoo. Tiger paws are served at nouveau-riche Chinese banquets. Dog and cat meat is routinely offered in restaurants in China, Korea and Taiwan.
Japan and China have long opposed efforts to end the ivory trade. Their continued covert importing of ivory threatens the already fast-dwindling number of African elephants. The same holds true for Africa's horned rhinos. Both magnificent creatures are being massacred for knickknacks.
China and Japan are fighting efforts to protect the dwindling number of sharks, dolphins and whales. Only one shark species was afforded protection at Doha. Shark fins make delicious soup and are a staple of Chinese weddings. I love shark's fin soup, but boycott it, as I do foie gras and veal. Sharks seem doomed, just as the once seemingly limitless North Sea cod, Dover sole and caviar-producing Caspian sturgeon. Woe betide the species that becomes a delicacy, or a supposedly low-calorie meal, like sushi. Nations with important fishing fleets, like Japan, China, France, Spain, Poland and Russia, strongly oppose protecting maritime species.
Even the European Union, the world's leader in defending animal rights, has failed to curb its rapacious fishermen, who thwart all efforts to lessen their depredations by violent strikes and blockades. These marauders will continue to fish until no fish are left. Then they will demand government compensation for their stupidity and greed.
Factory fishing ships with advanced electronics once used to hunt submarines are literally hoovering up large tracts of the world's oceans and raping coastlines of unstable or war-torn nations unable to protect their littoral waters. The last time I went skin-diving in the Mediterranean, I was horrified to see not a single fish over finger size. It was an underwater desert.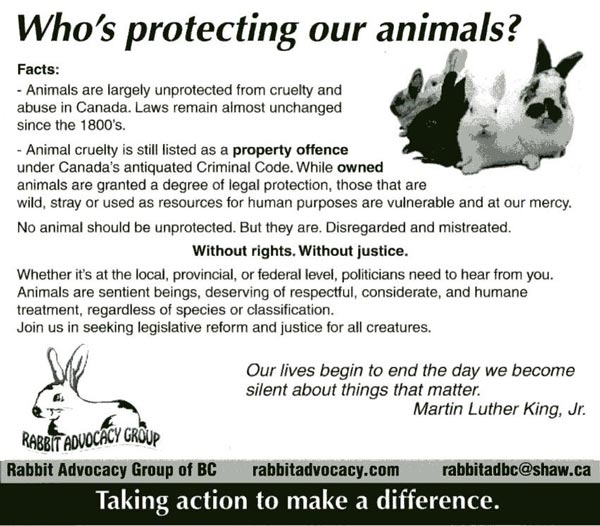 Politicians are unlikely to say no to hunters or fishermen in all but a few enlightened countries. It's up to consumers who care about the planet's living creatures and environment to make their power felt by avoiding products from nations that are notorious abusers of animal and maritime life. The EU has already begun boycotting certain Canadian goods because of its loathsome seal hunt.
It is edifying to see the United States junking the George W. Bush/Dick Cheney medieval delight in slaughtering animals for fun and mowing down entire forests. At least here, the Obama administration is beginning to make a real difference.
February 21, 2013 B.C. government failing to protect biodiversity: auditor general report (ongoing news)
August 8, 2020 British Columbia's looming extinction crisis
Canada's westernmost province markets itself as 'Super, Natural, B.C.,' but more than 2,000 species of animals and plants are at risk of disappearing — and unlike six other provinces, B.C. still has no endangered species law, despite the NDP's election promise to introduce one.
Read more: https://thenarwhal.ca/bc-extinction-crisis/
Visit our Nature/Human Impact page
Visit Wilderness Committee BC Endangered Species Legislation