Rabbit lovers worried about Jericho Park habitat destruction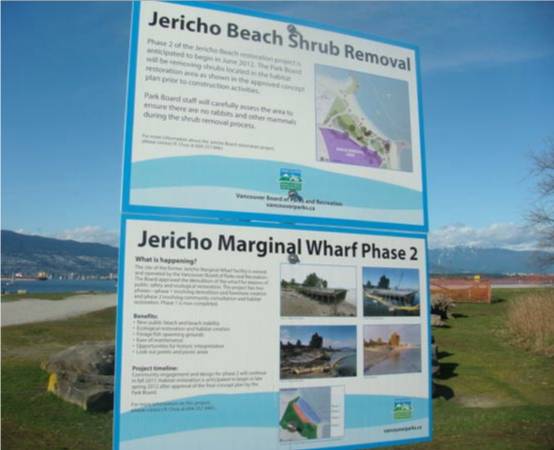 April 14, 2012 Mike Hager, Vancouver Sun
A group of rabbit lovers are up in arms over the Vancouver park board's decision to remove a bunch of blackberry bushes at Jericho Beach that are home to dozens of the furry creatures.
The board says a biologist has been hired to help move any wildlife into the surrounding brush as the zone just southeast of the Jericho Sailing Centre is cleared this month to plant native species. "We have mowers but we also have a professional biologist there," said board chair Constance Barnes. "What it is is just shrub cleaning."
Once the brambles are cleared the rabbits can return to the area as indigenous shrubs are planted throughout the summer Barnes said. "It's the sound of the mower that scares [the rabbits] out."
Still, Carmina Gooch, founder and president of the Rabbit Advocacy Group of B.C., is worried that the plan, which involves clearing the large patch of brambles with mowers and by hand - could decimate the population.
"The concern is moving their habitat - removing so much all at once - doesn't provide them with any cover," Gooch said. "They're out in the open and exposed to predators." "I don't know how extensive the warren system is, but it's fairly widespread because they've been there for years."
"This is actually a really good story because what we're doing is moving shrubs that are becoming really invasive and we're replanting them with natural habitat," Barnes said.
There is no concrete total for the feral rabbit population, but Gooch said a count made yesterday afternoon by a volunteer found 30 bunnies out in the open. She estimated there are over 100 of the furry creatures at Jericho.
The move is the second phase of the board's plan to return indigenous land vegetation to the area. Phase one involved demolishing the nearby wharf and reconstructing the shoreline. The total budget for the project is $2.5 million and it is scheduled to be completed by the fall.
Sorelle Saidman of Rabbitats Canada said most feral rabbits are abandoned by owners unaware their pets will temporarily become "bunnies from hell" during a hormone-filled adolescence, but the phase is temporary. "They do get over it and go back to being really sweet pets, but people don't know that," she said. "And then they dump the rabbit at sexual maturity."
Several B.C. municipalities, including Victoria, Kelowna, Coquitlam and Richmond, have made their own bylaws to regulate or ban the sale of unsterilized rabbits, but many rabbits are now sold online on unregulated sites like Craigslist, Saidman said.