Who's killing the Easter Bunny?
Friday, March 23, 2007 The Roanoke Times - Marlene A. Condon (author of "The Nature-Friendly Garden.")
Soon Easter will be here. Smiling young children, no doubt, are eagerly looking forward to Easter morning. If they have been good, they can expect to discover baskets full of sweets that were left by the beloved Easter Bunny. But as the kids chomp down on their chocolate candy bunnies, they probably have no idea that the Easter Bunny's real-life counterpart, the Eastern cottontail and many other species of rabbits, are disappearing from our landscape. These nonthreatening and lovable creatures are being killed off -- not deliberately, but mindlessly.
Americans are so obsessed with manicured yards that no food or nesting spots exist around their homes to help rabbits and other wildlife to survive. Also guilty are the people in neighborhood homeowner associations who have such distaste for overgrown fields that they mow what are supposed to be "common natural areas" in their subdivisions.
Once upon a time, rabbits were common around houses in small towns and suburbs as well as in the country, but they are no longer wild animals that children (or anyone) can easily see. Indeed, rabbits may soon be as much a figment of the imagination as is Peter Cottontail hoppin' down the bunny trail, Thumper, and the rabbit that Alice followed down the hole in her Wonderland adventures.
With so much prime grassland habitat being destroyed for houses and businesses, cleared for golf courses and plowed under for farmland, it is not surprising that many kinds of once-common wildlife are becoming scarce. Some of these animals are of particular interest to humans, such as butterfly species like the regal fritillary and numerous varieties of songbirds such as the Northern bobwhite and American woodcock. And as these animals disappear, the predators that feed upon them also disappear.
But a magician with his big black hat can't bring back our adorable Eastern cottontails. The only way to save this species and others is for landowners to jump into action.
Huge, sterile yards around homes need to be replaced with more-natural landscaping. Allowing broadleaf "weeds" such as plantain to grow in lawns provides food for rabbits. Growing many kinds of nectar-producing flowers provides nourishment for numerous insects, such as butterflies. Letting flowers go to seed and leaving the stalks standing throughout the fall and winter assists birds and small mammals to survive the harshest time of the year.
In an out-of-the-way corner of the yard, a brush pile can be built so that a rabbit can make a nest at the bottom of it for her young. Letting another corner become a "wild" area of tall grasses and wildflowers will permit birds to gather nesting material and perhaps allow some kinds to actually nest there. These practices can also be applied to businesses, golf courses and farms.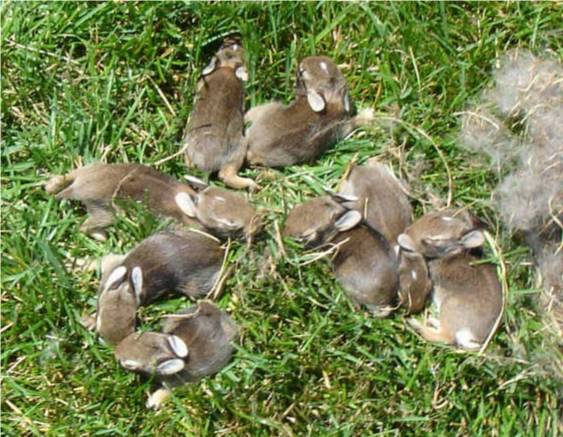 Twenty years ago, after I excitedly pointed out a wild bunny to my two young nieces, my sister-in-law asked, "Haven't you ever seen a rabbit before?" She was amused that I could sound so thrilled to see one of these small creatures because rabbits were so easily viewed back then.
We can prevent wild rabbits from becoming nothing more than memories. If the Eastern cottontail becomes scarce, how will children understand the Beatrix Potter tales of Peter Rabbit and Benjamin Bunny or the story of Bambi and his friend Thumper? Indeed, can the Easter Bunny exist if there are no real wild bunnies?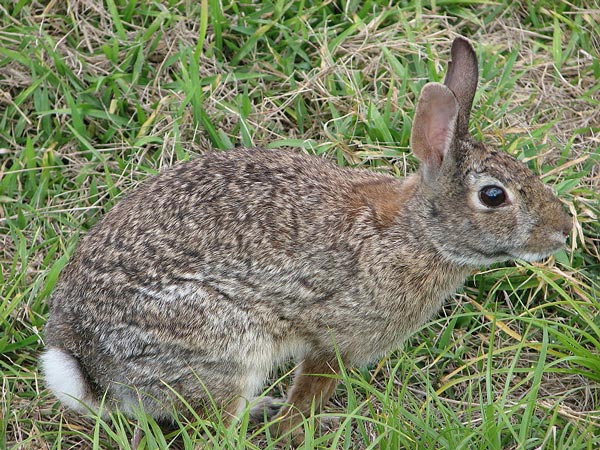 Comment: Human population growth is displacing species on the entire planet, and worse yet, we're directly responsible for the extinction of multitudes of others. Time to cull the human race?
NH gets money to protect rare rabbits
April 20, 2009 Associated Press
CONCORD, N.H. (AP) - The New Hampshire Fish and Game Department is getting $730,000 to help protect the New England cottontail and other imperiled species in several states.
The money comes from a U.S. Fish and Wildlife Service grant program and will be used to restore 1,200 acres of habitat, creating 50 new habitat patches across the New England cottontail rabbit's range. The federal agency also is providing close to a $1 million to the state fish and game department to maintain and restore habitat connections for 41 species in the northern Appalachian mountains, including Canada lynx, American marten, wolf, black bear and bobcat.
---
Related: White-tailed jackrabbit declining in Iowa.
Iowa State helps Department of Natural Resources research jackrabbits
May 23, 2009 High Plains/Midwest Ag Journal
Iowa State University students are researching the white-tailed jackrabbit, a species of hare that is declining in Iowa.
The research on the white-tailed jackrabbit began three years ago when Todd Bogenschutz, upland game biologist with the Iowa Department of Natural Resources, contacted Iowa State for help with the species. The Iowa population of jackrabbits has been declining for more than 40 years and the DNR wanted more information to guide the conservation and management of the species.
White-tailed jackrabbits are technically hares, not rabbits. They are nocturnal animals that tend to live in grassland areas of the northern United States and Canada.
Jackrabbits are found primarily in northern and central Iowa, although occasional sightings come from other parts of the state, said Sue Fairbanks, associate professor in the natural resource ecology and management department. This project is studying jackrabbits that live in and around the Agronomy and Agricultural Engineering Research Farm west of Ames.
Research includes genetic testing of the different populations of white-tailed jackrabbits in Iowa and tracking their activity.
Irma Tapia, a graduate student in the natural resource ecology and management department, is researching the genetic diversity of the jackrabbit populations in Iowa. Her goal is to determine if remaining populations of jackrabbits in Iowa are isolated or if animals sometimes move between them. Tiny samples of tissue from live and road-killed specimens provide the genetic material for testing.
Another student, Eric Kilburg, a junior in animal ecology, is doing his honors project on the diurnal or daytime resting habitat selection of the jackrabbit. With help from Fairbanks, the adviser on the two projects, the jackrabbits are trapped and given radio collars to track their travel patterns and habits. "The research is ongoing, with continued study and monitoring of the species in order to help inform conservation and management of the jackrabbits," Fairbanks said.
The undergraduate research project will continue through the end of this year. The graduate project is expected to end in spring 2010, but the DNR and Fairbanks are discussing additional research extending beyond 2010. The Iowa DNR, which commissioned the help of Iowa State, is paying for the radio collars worn by the jackrabbits, along with other logistical support. The Iowa Science Foundation, a state-supported grant program administered by the Iowa Academy of Science, and Iowa State also are funding the project.
BC's Coast Region: L.a. washingtonii
Read more: Columbia Basin Pygmy rabbit genetically extinct; the reintroduction efforts
See more on our Nature/Human Impact page
Rabbits, Cottontails, and Hares
Let it be said that - There are no animal problems, just problems people create for animals.