Comments:
This is a global issue and one that's being fought here in Canada, too. Antiquated laws need to be updated to reflect our changing times. See Rabbit Advocacy's
"Animal Law"
page or go to IFAW:
http://www.ifaw.org/ifaw_canada_english/join_campaigns/national_and_regional_efforts/stop_animal_cruelty_in_canada_support_anti-cruelty_laws/index.php
Horse-hanging charges draw dozens to Victoria courthouse rally
Times Colonist December 1, 2009
The anticipated court appearance of two Brentwood Bay men, charged in a case where an emaciated horse was killed by hanging, brought about 60 demonstrators to the sidewalks outside the Victoria courthouse yesterday. Many in the group were waving homemade signs, a number of which said "Justice for Jalupae" -- the name of the 27-year-old horse the men are accused of starving and then hanging from the bucket of an excavator.
Clayton Cunningham is charged with causing unnecessary pain and suffering to an animal and failing to provide the necessities for an animal. David Whiffin is charged with killing or injuring cattle, causing unnecessary pain and suffering to an animal and failing to provide the necessities for an animal.
But neither man was present for their first appearance in Victoria provincial court. Defence lawyer Don McKay, who is representing Whiffin, asked for an adjournment until Jan. 4.
Demonstrator Sarah West, a member of Canadians for Animal Welfare Reform, said she is sure to be back then. West said she and the others were at the courthouse to show their support for animal rights, and to call for maximum sentences in Jalupae's death.
Comment: Regrettably, there are numerous instances like this one. Increasingly, people everywhere are demanding that there be stronger laws to protect animals from disgusting losers like these two.
Jailed, lying sister who set fire to pet rabbit
A woman who deliberately set fire to her sister's pet rabbit has been jailed and banned from keeping animals for life.
Katey Barber, 22, from Wythenshawe, downed seven cans of lager before setting Bunny the rabbit's hutch on fire, while her niece and another child slept upstairs. Despite the pet's screams, Barber laughed and refused to unlock the back door so her friend could help it. She then lied about it when quizzed by both police and probation services.
The attack was described as 'despicable' as Barber was sent to prison for three months at Stockport magistrates' court.
After hearing differing versions of events from Barber and two witnesses, chairwoman of the bench Dorothy Manton, said: "We find the defendant has lied so many times that we don't believe anything she has said today in court. This was a despicable attack on a poor defenceless animal who had caused you no harm."
The attack took place at Barber's mother's house on Bosley Road, Cheadle Heath, last September. Her sister Rachel, Bunny's owner and her mother were on holiday.
Barber admitted deliberately setting fire to a drum full of her stepfather's clothes as part of an ongoing vendetta. She claimed she had been removing one of the burning items when it accidentally flicked on to Bunny's hutch. But magistrates found her evidence contradicted photographs taken at the time, and that she had since tried to discredit both her own sister and her friend.
A previous hearing was told Barber prodded the rabbit with a stick before throwing a burning piece of paper into the hutch and shutting the door.
Barber, formerly of Ladysmith Street, Shaw Heath, has since moved to Brownley Road, Wythenshawe. Defending, Neville Warburton said Barber now wishes to move on and 'rebuild bridges'.
Comment: The Animal Welfare Act, an overhaul of pet abuse laws, came into force in England and Wales in 2007.
The Act was the first review of pet law in 94 years. It replaced the Protection of Animals Act, first passed in 1911 and designed to prevent outright cruelty to animals. The Act introduced tougher penalties for neglect and cruelty, including fines of up to £20,000, a maximum jail term of 51 weeks and a lifetime ban on some owners keeping pets. Enforcers like the RSPCA have more powers to intervene if they suspect a pet is being neglected.
In B.C., if the SPCA sees an animal in critical distress from a public place, such as a road, they can remove 'it' immediately. However, in most cases the special constables/officials cannot remove animals unless they have been abandoned or a warrant is in place. Sometimes animals are surrendered. If the BC SPCA seizes animals, owners have two weeks to appeal the decision.
May 22, 2010: Stories of animal cruelty and abuse from all over continue to be reported on by the media. An alpaca named Masterpiece was recently stolen, savagely beaten to death with a makeshift club and dumped in a barn in Cincinnati, Ohio. Meanwhile, Australian police are hunting a gang of killers after the ruthless slaughter of more than 100 kangaroos and wallabies at one of Tasmania's most popular parks. Stop animal cruelty in Canada with effective legislation has over 150,000 supporters on its Facebook page. Our elected officials must be held to account – and so must the perpetrators of such evil and twisted acts. Take action!
Carmina Gooch's letter of May, 20, 2010 to Andrew Saxton, MP; Hon. Robert Nicholson

Stephen Harper, Prime Minister; Mark Holland, MP
Re: Animal Cruelty Laws of Canada
Dear Sirs:
I'm sure you are aware of the horrific incident recently in which Tyson, a young dog, was put down after he was found sexually abused and unable to move, near a school in Windsor, Ontario. Anjalo Abeywickrema, 51, the 'owner' who was on parole at the time, has been charged with one count of permitting unnecessary pain, injury or suffering to an animal. Words aren't strong enough to describe the tremendous outrage that I, and millions of others felt after this story broke. This poor trusting animal endured unbelievable suffering by a pervert who is unfit for society.
On Monday, a B.C. 'man' received a 30-day jail term and $50 fine for violently bludgeoning a Duncan family's pet cat on Christmas Day 2006. What a travesty. The cat was a beloved member of the family and had to be euthanized. Meanwhile, this warped individual is living amongst us.
Councillor Ron Jones of the City of Windsor introduced a motion earlier this week imploring the Federation of Canadian Municipalities to support the city's quest to make penalties stronger for those who commit crimes against animals.
Windsor-Tecumseh MP Joe Comartin has also called on the Harper government to introduce a bill toughening animal cruelty laws. His own private member's bill, he said, will likely never make it through Parliament. The bill would set a ten-year maximum sentence for abusers and re-define animals as sentient beings, rather than as 'property.'
Mark Holland has been fighting for years to get modernized legislation passed. Animal welfare and advocacy organizations, humane societies, individuals, and in fact, the vast majority of Canadians want to see tougher laws and stronger penalties for those who violate and mistreat all living beings. The conviction rate for those cases that actually make it before the Courts is virtually non-existent.
Enough with all the delays. Get on with this urgent matter!
"If we do not maintain justice, justice will not maintain us." Francis Bacon
Rabbit killer gets 4 years in prison
Friday, 10 Sep 2010
NORTH ADAMS, Mass. (WWLP) - The man charged with brutally killing five pet rabbits will spend four years in prison on Friday. 23-year-old Wayne Brackett of North Adams pleaded guilty in Northern Berkshire District Court to five counts of animal cruelty, one count of breaking and entering, and one count of destruction of property.

Brackett admitted to breaking into Berkshire County Construction in North Adams and killing five rabbits, on June 9th. Brackett will be on probation for two years after he's released from prison and will have to perform 100 hours of community service.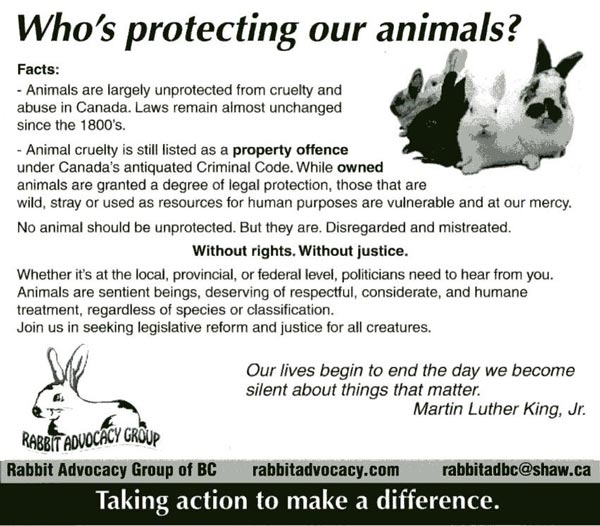 Comment: Take note, Canada. Animal cruelty is a vile and despicable crime. To protect the vulnerable and defenseless of society, laws and punishment must reflect our intolerance of such action. Take a stand! Our group has been regularly running PSAs to draw attention to this crucial matter.
Who's protecting our animals? Summer 2011 (Rabbit Advocacy's PSA.) Go to our News page to read more. Taking action to make a difference
February 25, 2018 Our animal cruelty laws need to catch up in 2018
Comment: It is well-documented by researchers and non-researchers alike that animals are sentient creatures. Most of us knew this as children. It is inexcusable that Canada's legislators have been delinquent in removing them from the property status under law. Our politicians have an ethical and moral duty to listen to its citizens and to act.
The day may come, when the rest of animal creation may acquire those rights which never could have been withholden from them but by the hand of human tyranny. Jeremy Bentham, The Principles of Morals and Legislation
Anti Animal Cruelty Campaigns - Animal Cruelty Stops Here
Animal Aid Fighting Animal Abuse & Promoting a Cruelty-free Lifestyle